Disclosure: This post was sponsored by Target® C9 through their partnership with POPSUGAR Select. While I was compensated to write a post about Target® C9 all opinions are my own.
Workouts in the winter. The struggle is real, y'all. I talked recently about my tips for staying active in the winter, which is so important for me. I don't want to get to bikini season with regrets! Today, though, I wanted to talk more about my favorite types of workouts. Some workouts motivate me more. Some are just more enjoyable. I love working out in the comfort of my home, especially in the winter when I don't want to go out in the cold!
I love the P90X3 workout DVDs. They are 30 minutes long, so totally doable. But man, they're pretty hardcore! I like to do them a couple times a week, since they're such great, total body workouts. I also love Jillian Michaels's 30 Day Shred DVD. It's about the same length of time, but much less intense than the P90X.

There are plenty of days, though, where I just do my own thing. I will often do jumping jacks, high knees and a mix of some of my favorite moves to get to a 20-30 minute workout. Here are some moves that are most effective for me.

Squats. These are high on my to-do list. They burn lots of calories, since you're using such big muscles and they keep your backside bikini ready! I like to do them with weights, too.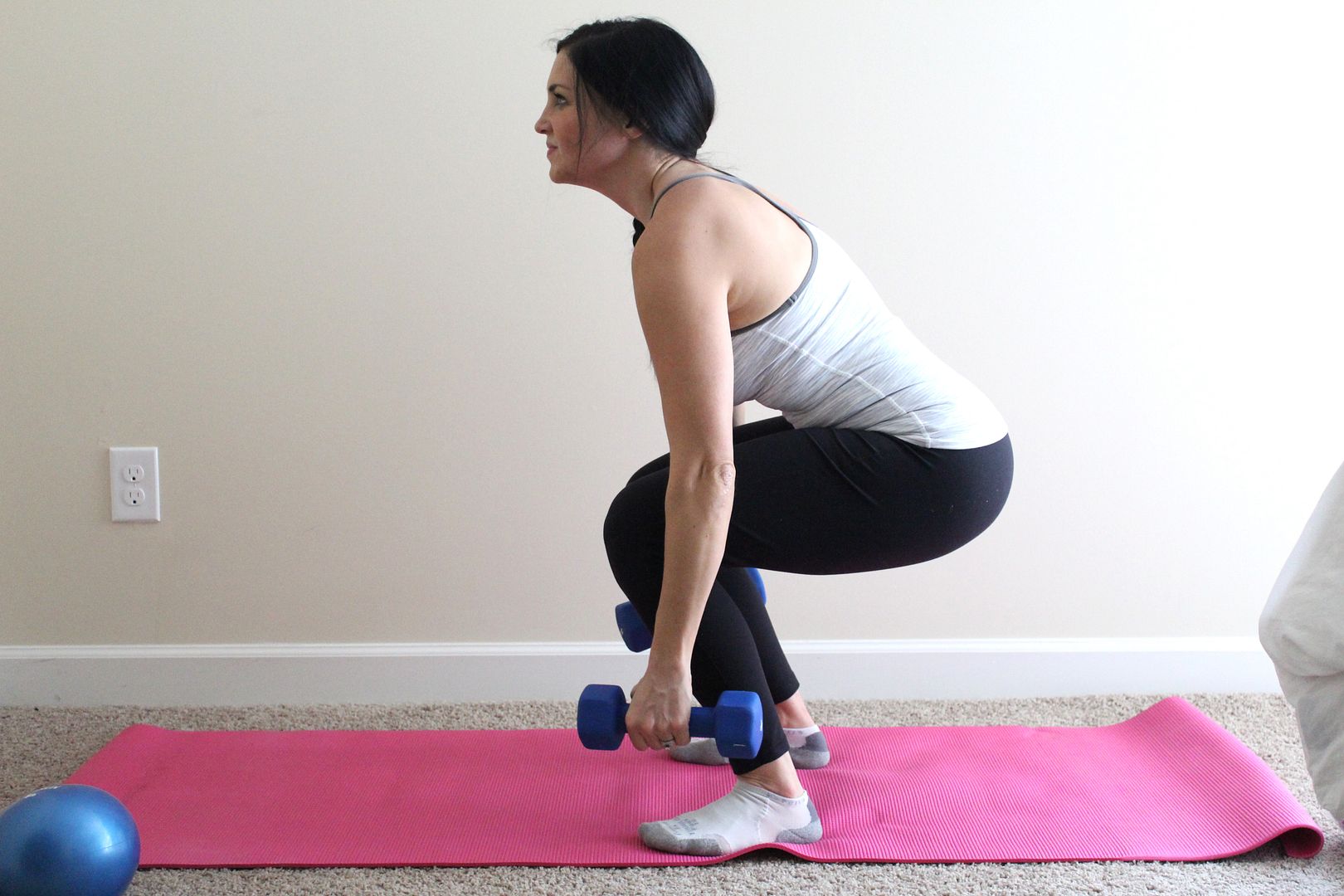 Ab routine. I'm a mom...enough said! My skin will never be the same on my stomach, but if I'm consistent in my ab workouts, it really makes a difference in how I look. My favorites include a v up, so go from a lying position up to this. You can also do a v hold, which is just holding this position. Talk about burn!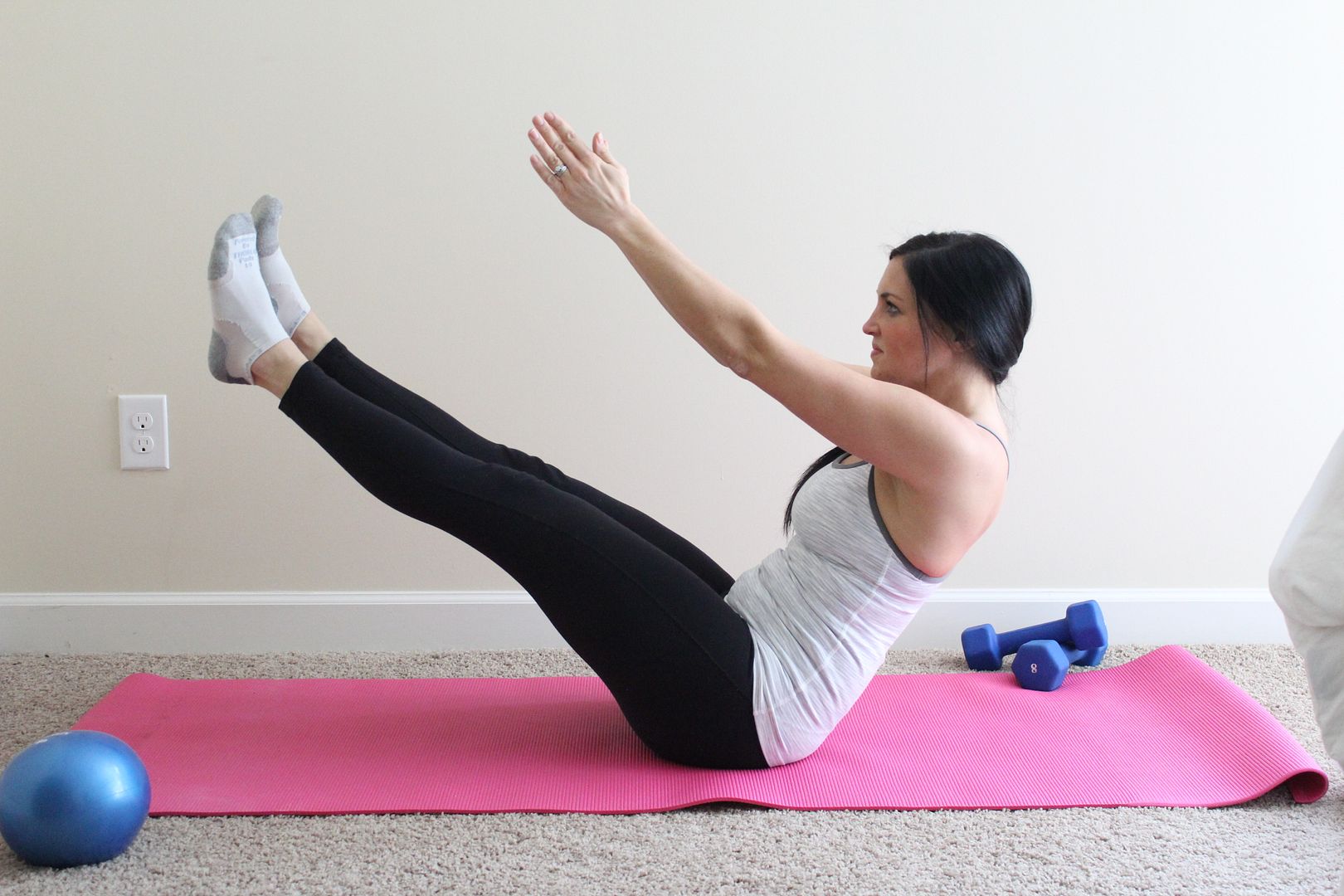 Medicine ball twist is no joke. Rotate from side to side, touching the ground each time. You could also use a weight for this instead.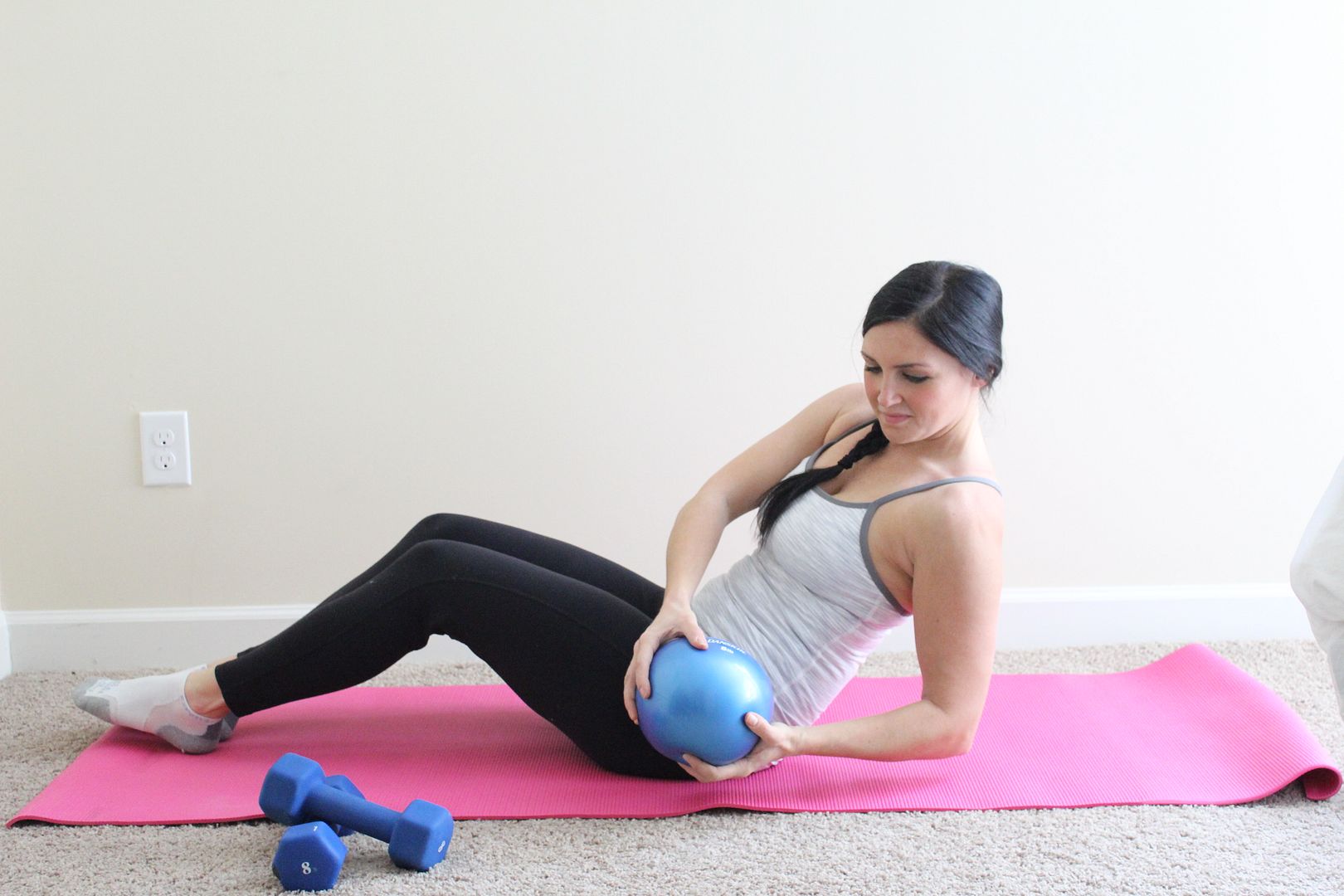 Mountain climbers are great cardio as well as ab workout. In a push up position, bring your knee to your elbow and put it back. Repeat on the other side. If you do this quickly, like you're running, your heart will get to racing! I like to bring knee to opposite elbow, to work more of the obliques.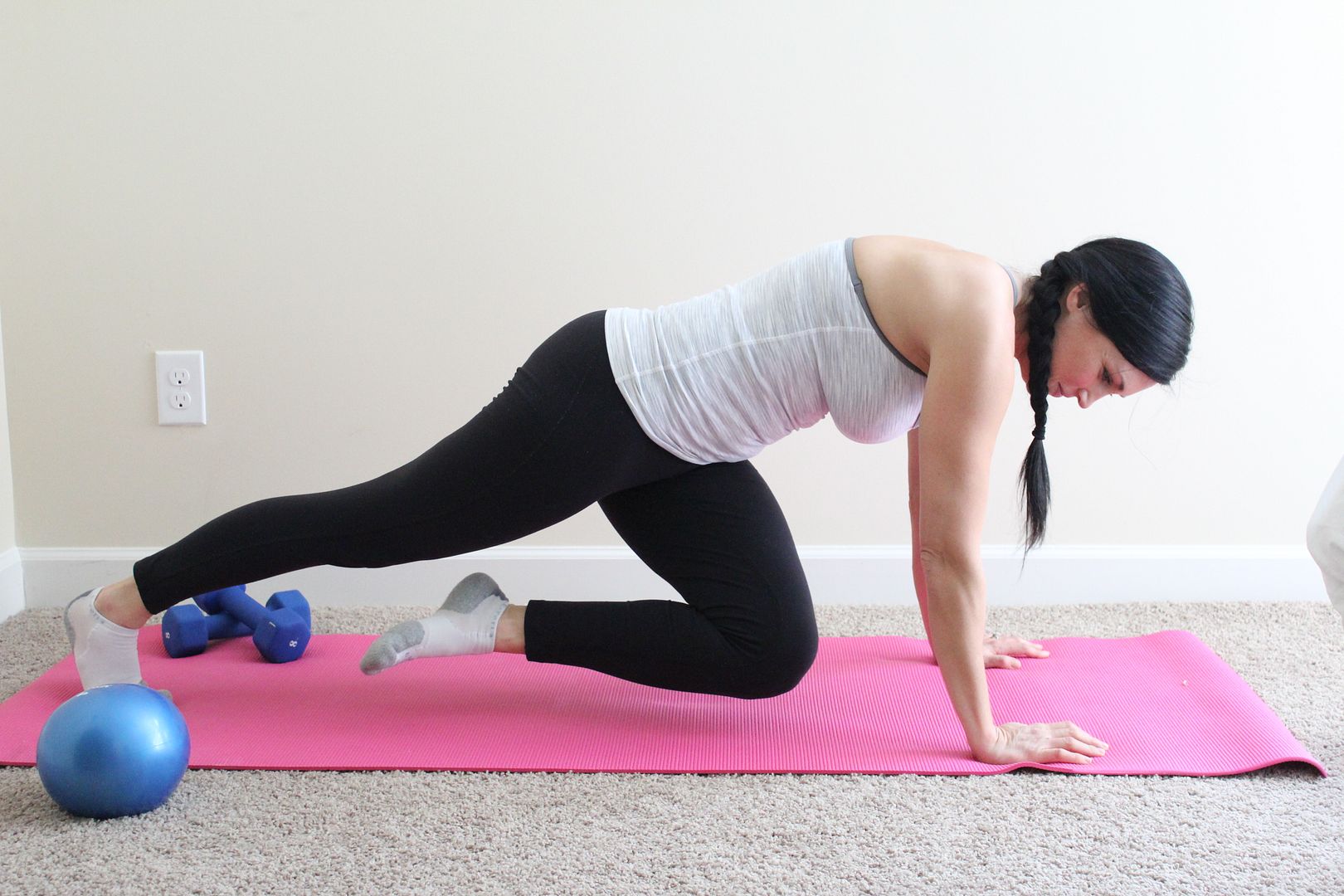 Yoga. I'm not as big of a fan of yoga as I should be, but it sure is good for you. I think it's hard for me to relax and do a workout that isn't fast paced, but it's such a good thing for your muscles. I do use several of the common yoga stretches after every workout, whether it's my own made-up one, or a run. The downward dog is one of my favorites.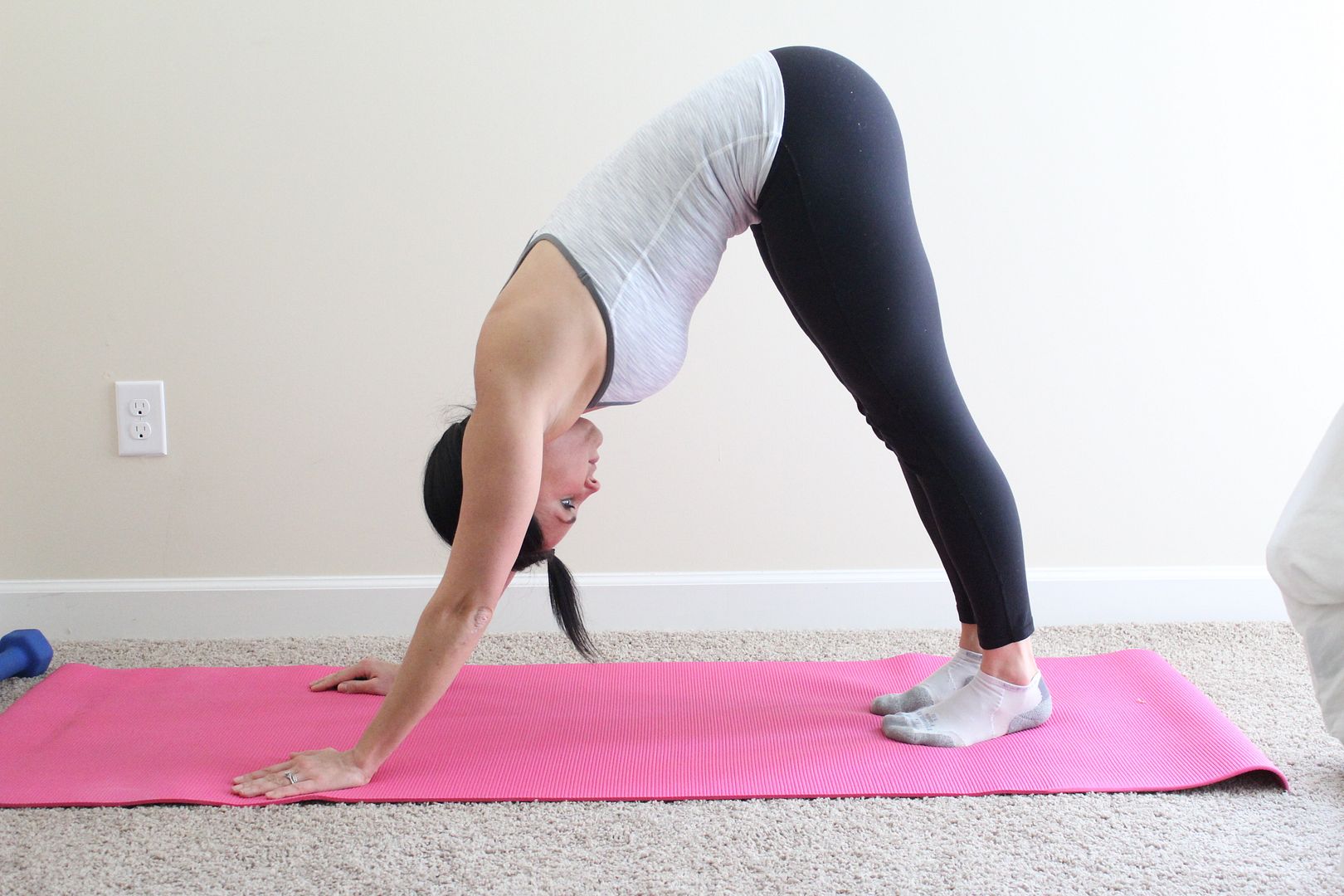 Of course any workout is better if you're dressed for the occasion. I'm a fan of the tighter workout gear that doesn't get in my way when I'm moving. I love the C9 line at Target for clothing that is perfect for working out and looks great enough to wear out. If I get up and put on my workout clothing, I'm much more likely to be active that day. Sometimes, I don't have time to workout in the morning before errands, but I feel comfortable wearing my C9 pieces out, then I'm ready to get in my sweat sesh at naptime!
So who's ready to commit to winter workouts? It can be as easy as a handful of basic moves like I like to do. Any workout you do is better than nothing!
How do you like to work out in the winter?